PUYALLUP'S CHOICE FOR RESIDENTIAL ELECTRICAL SERVICES
Residential Electrical Services in Puyallup
As one of the most prominent cities in Pierce County, Puyallup is truly a wonderful place to live. From its local farmers markets and art galleries to the annual Daffodil Festival Parade, Puyallup has a thriving local community and culture. Then, of course, there is the regionally renowned Washington State Fair hosted every year! People come from all over the state to the Washington State Fair to see all the animals, ride the roller coasters, indulge in some delicious fair food such as scones and elephant ears, and celebrate Puyallup's rich agricultural history!
We get a lot of calls for electrical work here in Puyallup. There are a lot of older homes in downtown Puyallup that require repairs and updates for damaged wiring, outlets, devices, and panel changes. There are also many newer homes in the South Hill area that may want more modern electrical features, such as electric car charger circuits, whole home surge protection, spa, and outdoor circuits for entertainment.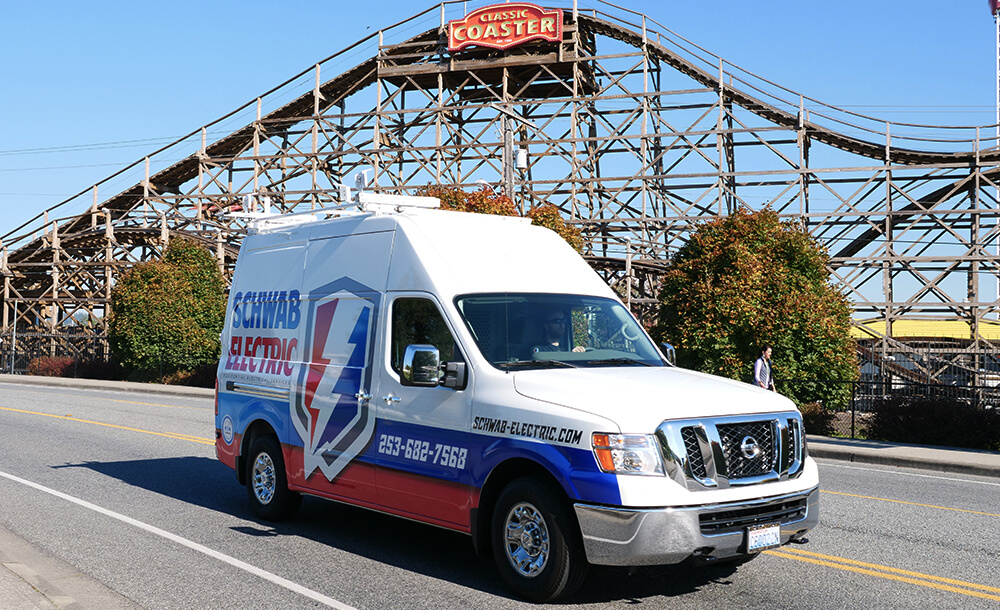 Electrical Troubleshooting Services
Light switches not working properly? Bulbs burning out faster than they should be? If you're having an electrical issue, it's not always apparent where the source of the problem is. Thankfully, our Troubleshooting / Inspection services will help you isolate and fix any existing electrical issues!
Regardless of whether your house is new or old, in downtown Puyallup or up on South Hill, our skilled technicians are here to help identify and solve any and all of your electrical problems!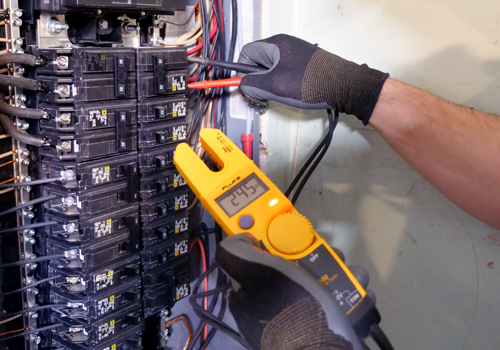 Electrical Installation Services
More and more residents are looking to update their older Puyallup homes with newer electrical systems and features.
Whether you are looking for more traditional ceiling fans and standard receptacles or are interested in more modern features like electric car charging stations and under-cabinet lighting, we can help! Our technicians are ready to install new fixtures anywhere in your home!
Electrical Repair Services
Regardless of whether your Puyallup home is old or new, electrical systems can break down. A lot of things can cause electrical systems to break down: standard wear-and-tear, improper installation, and inclement weather, among other things.
If you are experiencing issues with any of your electrical systems, give us a call! Our licensed residential electricians have the skills and tools to handle any repair work you may need.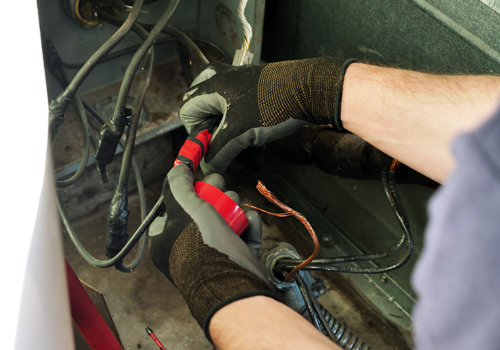 Frequently Asked Questions About Electrical Services
My garage or outdoor electrical outlets don't work, and there's no tripped breaker. What's wrong?
2018-10-31T16:39:15-07:00
Many homes have a Ground Fault Circuit Interrupter (GFCI) located in the garage, usually near the panel that protects the garage and outdoor receptacles. If it is tripped, the reset button needs to be pushed in completely to restore power. If it does not restore power, you may need an electrician to troubleshoot the issue
WHY CHOOSE SCHWAB ELECTRIC?
A Residential Electrician installs and repairs nearly everything related to a home's power and wires. This can include replacing equipment such as electrical outlets (receptacles), switches, light fixtures, circuit breakers, or adding entirely new dedicated circuits for appliances that draw a lot of power such as a spa, air conditioner, or heater.
A trained Residential Electrician knows all the correct parts that suit the job, and can complete a safe, quality, code-compliant installation.
Having a licensed, qualified electrician fix or install electrical components in your home is vital to your safety. The right company will be bonded, licensed, and insured to protect against a poor quality installation or if an accident occurs. Hiring someone unlicensed means you have no protection if they wire something incorrectly, and it could eventually lead to a home fire.
Insurance companies will want to see that an electrician has insurance of their own, and will want their permits pulled. Hiring an unlicensed electrical contractor means insurance won't cover a home fire; if such an incident occurred, you could lose all of your possessions.
Qualified and licensed electricians have years of experience. They're required to take continuing education classes to keep updated on the ever-changing codes and safety protocols. They have the knowledge of what needs to be updated, and can help educate homeowners.
We focus on quality, code-compliant installations that exceed customer expectations. All of our prices are given in flat-rate options, so there are no surprises in price before the work begins or after it's complete. If available, we'll inform you and provide you with different options, products, or methods in order to help you meet your budget.
New products and code changes occur all the time. Our electricians take continuing education classes, learn new products, and study the most updated codes in order to benefit our customers with the safest installations.