What Qualifies A Residential Electrician?
A Residential Electrician installs and repairs nearly everything related to a home's power and wires. This can include replacing equipment such as electrical outlets (receptacles), switches, light fixtures, circuit breakers, or adding entirely new dedicated circuits for appliances that draw a lot of power such as a spa, air conditioner, or heater.

A trained Residential Electrician knows all the correct parts that suit the job, and can complete a safe, quality, code-compliant installation.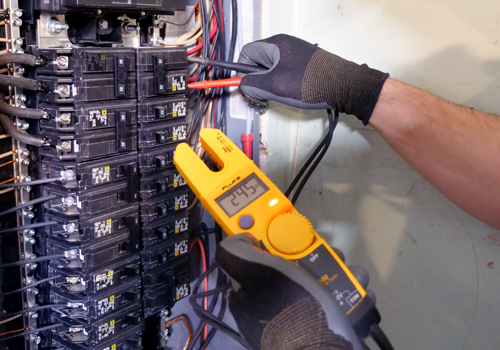 What can a Residential Electrician NOT do?
Certain appliances or equipment can be unsafe for a Residential Electrician to work on; often, you will need a specialist to install or repair certain fixtures. This can include:
Indoor heights greater than 12'
Outdoor heights greater than 16'

Electrical power that needs trenching

Appliances with internal wiring such as ranges, stoves, ovens, or dryers
OUR RESIDENTIAL ELECTRICAL SERVICES
Frequently Asked Questions
My garage or outdoor electrical outlets don't work, and there's no tripped breaker. What's wrong?
2018-10-31T16:39:15-07:00
Many homes have a Ground Fault Circuit Interrupter (GFCI) located in the garage, usually near the panel that protects the garage and outdoor receptacles. If it is tripped, the reset button needs to be pushed in completely to restore power. If it does not restore power, you may need an electrician to troubleshoot the issue